Founded in the year 1988, Core Technologies started as a highly successful Consultancy and Projects company providing consultancy in process control instrumentation and in scientific and industrial research. In the year 2000, Core Technologies migrated from consultancy to development and manufacture of products based on in-house R&D. The company believes in developing product and solutions through close interaction with customers. True to their name Core Technologies endeavors to go the core technical (and often scientific) issues and finds unique and cost effective solutions that ensure total customer satisfaction. In the year 2009 the company further diversified into providing design and development services in the area of embedded processor Instruments and Software developments for Industrial and scientific applications.
Equipped with a strong manufacturing base and a "no compromise" policy on Quality Control, Core Tech specializes in dynamic weighing machine controllers, Tamper proof data loggers for Pharmaceutical industry, High speed Sequence of Events Recorders for power sector, Weather Monitoring stations, Loop powered  Industrial Transmitters, Strain Gauge Instrumentation, Automated Test Equipment for engineering test rigs and custom projects. Core Technologies is a Company of young and talented engineers, with in-house R&D facilities, and is poised to take on bigger challenges to fulfill its commitment to...
….provide the best value for the money for its products and services.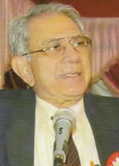 Founder
Mohan G. Phadnis
Retired Senior Scientist BARC, 23 years pioneering service. Left a deep impact and remembered as an R&D administrator and a legendary figure. Founder Core Technologies –A Company committed to excellence in Data Acquisition and Dynamic Weighing Machines for the last 30 years……..
Read More....